Why Premarital Counseling is a Good Idea
Becoming engaged to the one you love is an exciting experience. Although you may be focused on planning your wedding and envisioning your life together, it's important to consider the complexities of your personalities, lifestyles and relationship dynamics, as well as how these factors will affect your marriage. Many relationship experts recommend premarital counseling, as it gives you both the opportunity to communicate your needs and desires. It also allows both parties to go into the marriage with proper expectations.
What Is Premarital Counseling?
Premarital counseling is a type of relationship counseling that helps couples get ready for marriage and can help you and your partner identify and deal with issues that may become problems once you're married. This type of relationship counseling can help you get to know your partner better and increase your chances of having a strong, happy and healthy relationship.
Issues Addressed in Premarital Counseling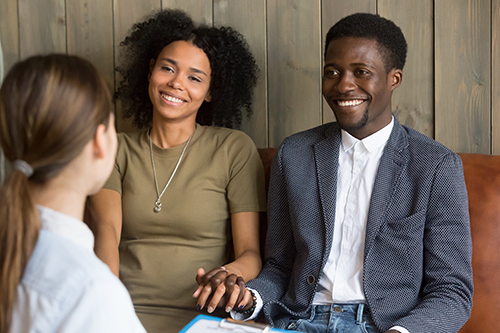 You can discuss any subjects or issues you choose in relationship counseling. Common topics include:
Communication styles
Value and belief systems
Dealing with anger
Marriage and gender roles
Decision making processes
Finances
Intimacy
Affection
Sex
Desire to have children
Parenting styles
Extended family dynamics and relationships
Career goals
Life/work balance
In relationship counseling, therapists use different techniques and exercises to help you gain a deeper understanding of your partner, improve communication and guide you through any issues that may arise.
Benefits of Premarital Counseling
Many religious institutions require couples to attend some sort of counseling before marriage, and for good reason. Many people who tie the knot believe marriage will fulfill their emotional, social, sexual, and financial needs, but differing expectations can throw a wrench in any relationship. Studies have shown after participating in premarital counseling, couples reported an improved ability to communicate, resolve conflict and solve problems. They also reported higher levels of relationship quality and satisfaction than couples who did not receive premarital counseling. Premarital counseling helps partners set realistic expectations for marriage and can make them feel more comfortable about seeking help down the road.
Who Provides Premarital Counseling?
Although many different types of counselors offer premarital counseling, marriage and family therapists (LMFTs) specialize in family and relationship counseling. Each therapist has their own approach to counseling, and the number of sessions you'll need depends on your individual circumstances. Keeping an open mind and being honest about your feelings can help you get the most out of premarital counseling, allow you and your partner better understand and support each other and lead to a long, happy and fulfilling marriage.
If you're ready to give premarital counseling a try, check out our online directory of licensed counselors at Kayenta Therapy and contact one directly to get started.